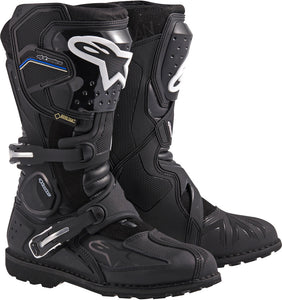 Toucan Gore-Tex Boots Black Sz 13
Alpinestars
Regular price $499.95 Sale
A fully CE-certified boot incorporating full leather and suede with a 100% waterproof Gore-Tex® membrane.
Innovative lateral ankle protection system forms flexible link between upper boot and lower foot area for added control and support.
Medial side structure is contoured for perfect fit and flexibility fit, with reinforced polymer sculpturing for grip and protection against bike's heat and impact.
Coated leather panel forms the outer surface of the toe box providing effective abrasion and weather resistance.
Contoured polymer shin guard incorporates an innovative vertical blade system for improved forward and rear control and support.
Medial surface stamped calf suede panel improves grip and protection.
Advanced instep and Achilles' accordion flex zones for superior comfort, control and support.
Wide-entry aperture for convenience with combined hard polymer and Velcro closure to allow wide range of calf fit adjustments.
Closure system features replacable, slim, aluminum buckles for security with memory adjustments and quick-release locking system.
Upper boot collar and inner lining constructed from breathable mesh for added comfort.
Alpinestars exclusive rubber compound for the optimal combination of comfort and grip.
Lateral side vent for added airflow.